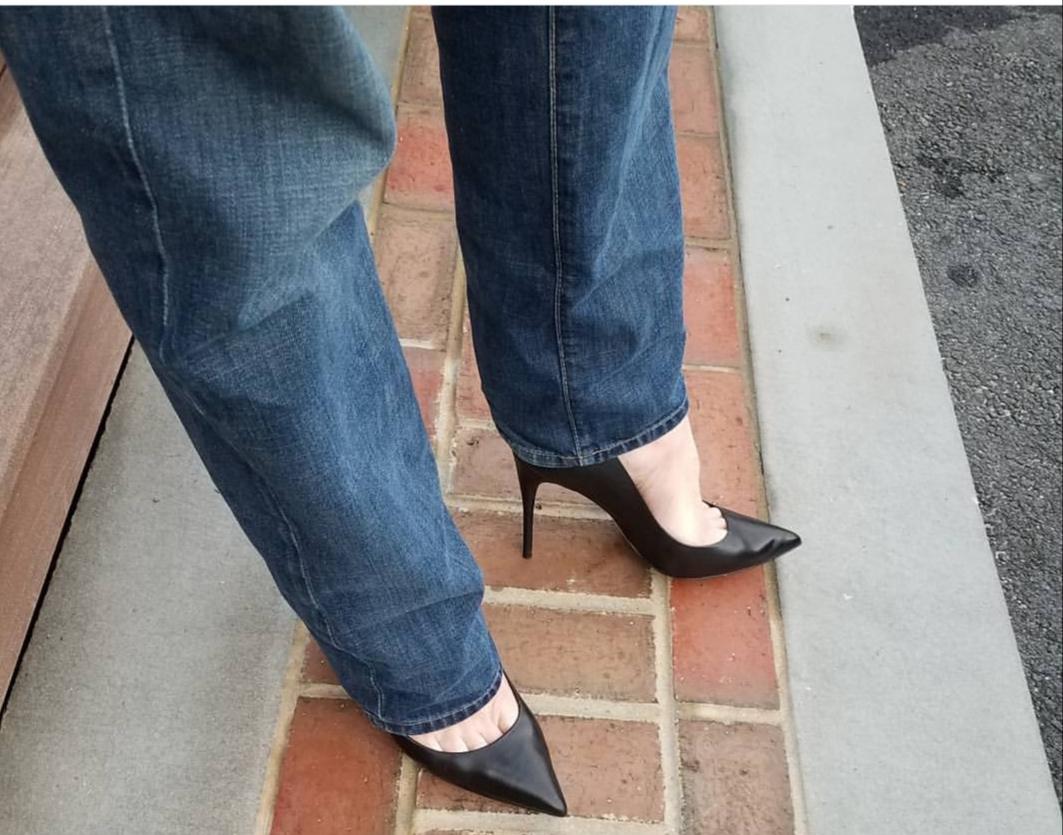 Content Count

127

Donations

0.00 GBP

Joined

Last visited

Days Won

13
Community Reputation
268
Totally trusted
15 Followers
All I see is " there are no clubs to show"

Yes next time I bring it up will definitely be to try and clear the air. From there I'll have to wait and see how the conversation goes.

@jeremy1986 It sounds like we are both in very similar situations. Along with many others but both of ours are happening more or less right now. My gf and I havnt talked about it since the night of when it all happened. I can tell she is still stressed out and not ready to talk yet, so I havnt tried bringing it up. But in due time. I'm sorry to hear that your talk didn't quite go the way you had hoped but it could still be worse.

I think you are right. Time is most likely the biggest factor. Also If I didn't work in a position where steel toe boots are a must and instead was in an office. I would definitely try to incorporate heels into my daily wear at work.

This is one of the most relevant post yet. It is basically exactly what has been said between us during that night and next day. One of the things shes said was I'm "supposed to to protect her not be prancing around in heels." Of course in the heat of the moment I couldn't chime in much as she was to emotional to hear a single word I said. Of course as you all know we dont just prance around in heels, we just walk like every other human. And yes I did come to the right place. I havnt been given anything other than kind words and support since I joined this site! I have definitely stepped back a few steps. But I'm not going to just let this stop me. I'm going to keep slowly trying to talk to her about it all. Maybe suggest going out of town the first time we go out in heels. I agree I love the look! I've never recieved a negative comment when going out. I need her to see that to help her come around.

She gets absolutely everything I have to give and it's been that way since day one. I just think I pushed it to far to fast. At least that's what I'm hoping right now.

I've thought about it but I havnt done it yet..

I am taller than her. But she is always in heels that are also in the 3-4" range. So us both in heels it's like looking her when we are both barefoot. I feel like our group of friends is very open to just about everything including a couple of openly gay people (both male and female) and it seems pretty much anything and everything comes up in conversation and no one bats an eye. Of course heels hasnt come up in conversation or I would have had my chance

I agree that is a good goal to reach. It's been 10 years since I bought my first heels. it wasnt untill a little over a year ago that I actually wore them out. Then it didn't take long to build up my confidence. I've only known my girlfriend for 2 years and we have been dating for the majority of that, so you are probly right it will take her a significant amount of time to get used to it.

Yea I dont act any different when I'm in heels I'm still the same person I am without them. (As I'm sure most people on here are the same way) Those particular heels are about 4.25" but i dont think the height has much to do with the problem. I will definitely figure that out for sure in the near future. Thanks I will definitely try to find the balance between the two.. I dont want to give up either one Yea of course I dont see the ordeal like she does. I'm definitely trying to understand it all from her side. And your right she doesn't know about the clothes but she knows about all my heels and I've worn them all around the house when shes home. She has known that I have heels shortly after we started dating. That I have never hidden. All my shoes are in plain view in the closet next to all (probly 40-50 pairs) of her heels. I can do without the skinny Jean's and skirts. I enjoy them but they are more just accessories to the heels. I can give up the slightly fem attire I have. But I know the desire for heels isnt going amywhere. That's the plan. Thank you all for your opinion and words of wisdom. Its is greatly appreciated!

I dont agree with any of that. If that's what you want more power to you. But I myself what to try and make this work. Yes I love heels but I certainly love the woman I am seeing more than heels. I know my love for heels isnt going anywhere but I'm willing to work on this and try to make it blossom into something great instead of just running away so I can wear heels everyday.

Yea I agree at the moment I dont think she will see the site as a bunch of other straight guys who wear heels. I think she will see it as exactly the opposite :/ and most definitely all other feminine clothes are very well hidden. thanks for any help and support. Its greatly appreciated!

She knows about my heels she knows I wear then. ( probly unaware if worn them in public, definitely doesn't know about my skinny Jean's or skirts.)Usually i just get a roll of the eyes when i wear them around the house. she has been tolerable about it all. But this was the first time she really spoke her mind. Before last night it never seemed like a big deal to her so I thought things were going well. I know it wont be fixed in one day but hopefully it can be fixed in the future. Ive thought about showing her this site. But I'm still undecided. I also thought she had accepted the fact that I have a passion for heels but I guess that was just a front she was putting up. Careful is the key word now as I dont want to ruin the relationship over shoes... this is the first person in my life that's I've ever actually seen a future with and I am not trying to mess that up. They are from Nordstrom and are made by tory Burch

Well tonight was a disaster. My girlfriend and I were supposed to go out to dinner. So we were getting ready and as I watched her pick out her outfit and then pick out her heels to match it I thought. I want to wear heels tonight instead of my boring mens sneakers.. I found a nice shirt and grabbed the pants and the heels in the picture below. Got dressed and thought to myself. This looks good I can't wait to go out to dinner! I came out of the room and she lost it. Started crying saying she hates that I have heels and hates that I want to wear them. Men dont wear heels. We talked a little but she wouldn't listen to me she has some image in her head and I can't get it out of her to really know what's going on. I offered to change into my regular sneakers with no luck. In the end we didn't even leave the house... I guess my healing is now put way out on the back burner :/ Hopefully tomorrow we can have a real conversation once she has calmed down a little.