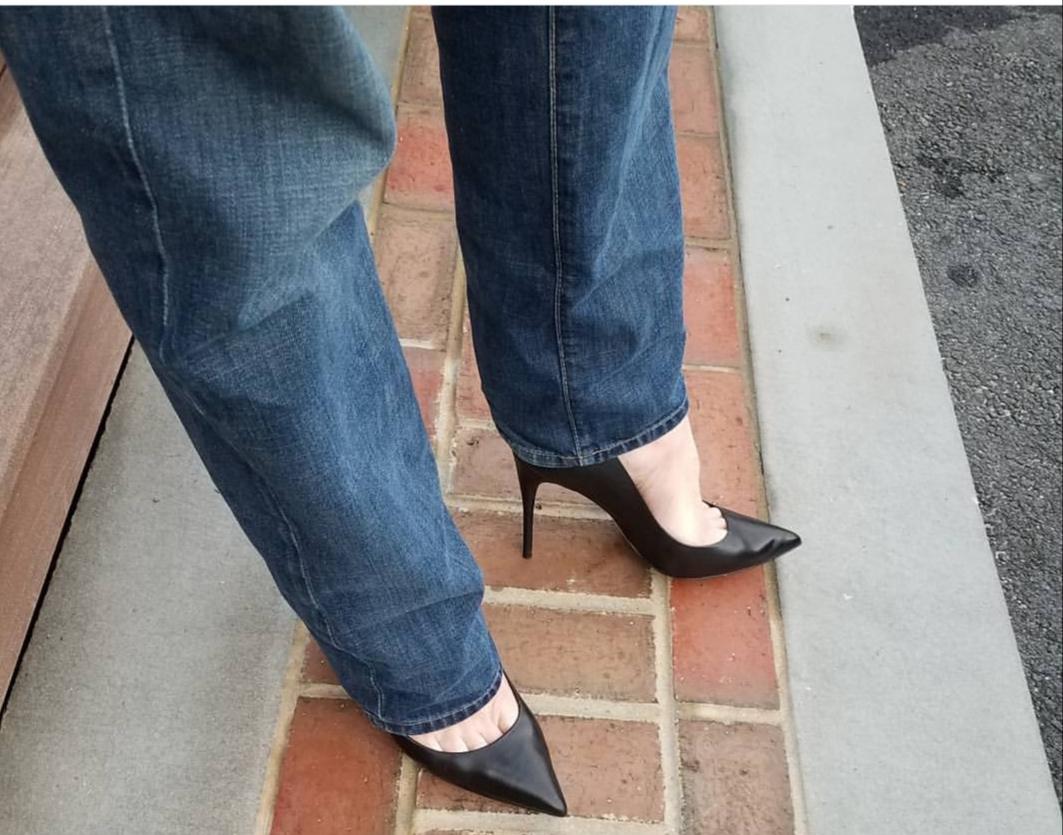 Content Count

151

Donations

0.00 GBP

Joined

Last visited

Days Won

14
Community Reputation
316
Totally trusted
17 Followers
I have been known to do that from time to time!

Its March so one day can feel like summer and the next can feel like December.. so today is bootie weather!

It's been a little while since I've posted but I'm still here. Still trying to get out when I can. Today was one of those days! Finally have some nice weather its 60 and sunny today and I wore my aldo wedge sandals out to pick up some things from lowes, ate lunch at the bar of a local restaurant and did some grocery shopping. Boy have I missed getting out in my heels

I went through this same thing I didnt post much on here about my confusion I just posted about my outing and how they went. I started like you (and many others I'm sure) years ago going out at night hoping no one would be around. And then one day I was driving somewhere in heels and I stopped at a store to get something and I kinda forgot I was wearing my heels. Withing the first 30 feet of walking into the store a younger woman complimented me on my heels. I was completely thrown off guard and I looked down and realized I was still wearing them. Told her thank you and quickly finished my shopping and left. Later to realize how much it doesnt matter that I was wearing heels. After that I started doing all my shopping in heels. Within a few months I was wearing skirt and pantyhose with mens shirts and jackets. To me they are way more fun than pants, more comfortable and alot of the times better looking! The only part that has been a problem for me is my girlfriend hates all of it. Which I've been struggling to get across to her that they are just clothes and why cant I enjoy them. She thinking I must be gay because of it, but those of us here know that isnt the case.. Good luck to you and keep trying to get out and about! It makes everyday things more exciting and enjoyable!

Got out last night wearing my latex leggings a skirt a some heels! I forgot how much I enjoy my latex leggings Once I resize the picture so I can post it here you cant really see the shine of my leggings

Guess I didnt think about that.. I'll have to swing in again before black friday

I just may jump on them.. although I would rather have this pair but the only go up to a 9 https://www.aldoshoes.com/us/en_US/women/footwear/boots/over-the-knee-boots/Graziella-Black/p/12655372

When I first posted them they had size 11 posted on their site. Now it only goes up to 10

I also didn't see them in store. But my size runs pretty true in aldo so I would be confident to just order them!

I just might have to add these to my collection!! https://www.aldoshoes.com/us/en_us/p/12648005?utm_source=facebook&utm_medium=paidsocial&utm_campaign=remarketing_dpa&utm_content=us_mf_atc15_amazingstyles&utm_kxconfid=t0hy0i68e

@jeremy1986 I believe they are 5.5" but I haven't measured them yet. I can walk in them pretty comfortably but they are very close to my max height I can wear comfortably

This is an older article that I dont know if it has been posted here before or not, but it's the first article I've found that says straight men where heels and that you dont have to be gay (or whatever other nonsense people call themselves these day) So even though it's an old article its nice to see someone writing about straight men in heels! https://hubpages.com/style/High-Heels-for-Men-Latest-Fashion-Craze

So did anyone ever actually win this friendly little contest?

My new heels almost match this skirt perfectly! I plan on wearing this out to dinner or a short shopping trip next week while I'm out of town for work!